Issue 2: June 20th 2021: Sunday Spam
TOP STORY: TANKMAN TRIWEEKLY FINALLY ABLE TO MEET SUNDAY DEADLINE. THEIR SECRET WILL SHOCK YOU.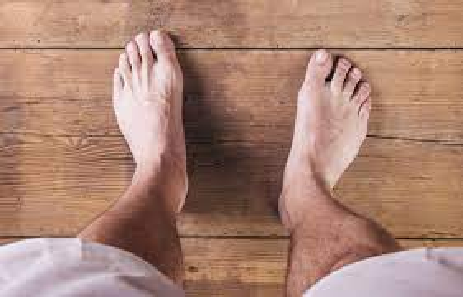 Y'all heard the story of when the editor of the Tank Tribune got carpal tunnel and had to slow down on writing new issues. We at Tankman Triweekly have found a solution that doesn't require us to push the deadline to Monday.
We write with our feet.
Yes, we have keyboards on the floor that allows our editors to type with our feet. Sure it's very messy and leaves it smelling like onions, but it allows us to type hands-free with oonly twuce as many spelling erorrs.
OLD BBS THREADS BUMPED ONLY FOUR TIMES THIS MONTH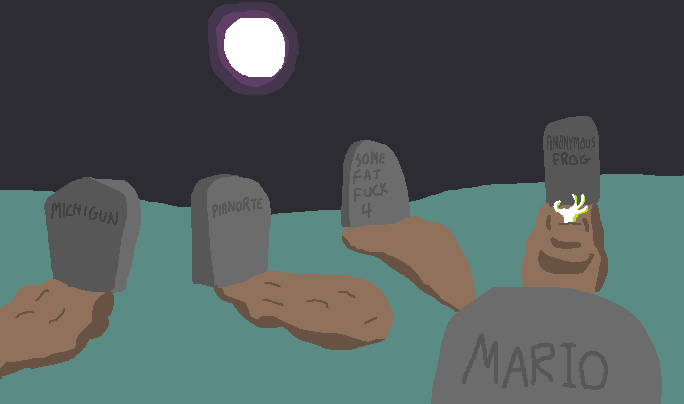 The month of June has brought on a whole new generation of troublemakers, some of them trying to finish what some now inactive chump started. Even though these threads haven't been touched in over a decade, this hasn't stopped these four buggers from trying to bring them back from the dead.
The practice is called necrobumping. We are not making this up.
https://www.newgrounds.com/bbs/topic/1030112/4 February 20th 2009. Even though the Simpsons are still going on, ideas for this specific premise surely have dried up by this point. Bumped by @FireTower
https://www.newgrounds.com/bbs/topic/360167/2 October 13th 2005. Newgrounds Rumble programmer @NegativeONE's website no longer exists, but that hasn't stopped @AcidWolf33 from pointing that out 16 years later
https://www.newgrounds.com/bbs/topic/237811 March 1st 2005. Yes Newgrounds still exists. Bumped by @MacromediaGuy, concerned about who'll take over Newgrounds when Tom Fulp dies.
https://www.newgrounds.com/bbs/topic/202950 December 4th 2004 Not even P-Bot is safe from getting bumped 16 years in the making. Bumped by @Piconjo out of all people
PETER PEECHA FINALLY MAKES IT ONTO TIERLIST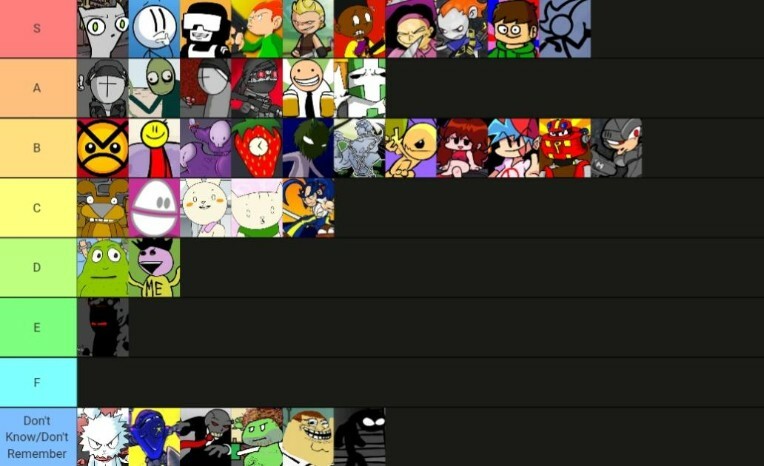 Credit: Jack7m (Discord)
INTERVIEW WITH BUTTCHAMBER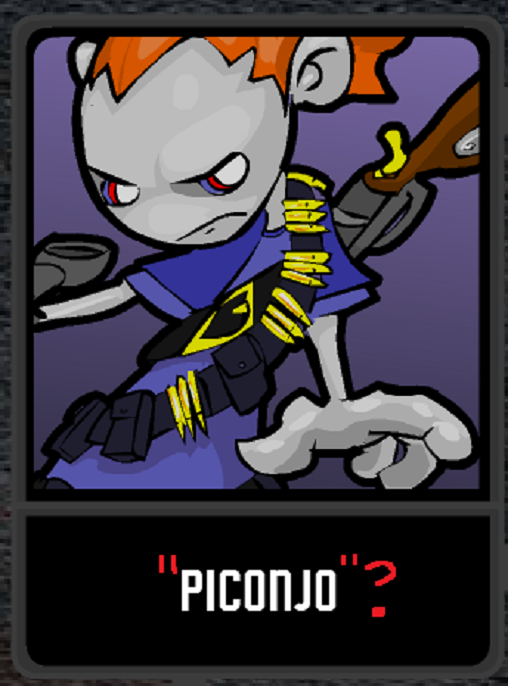 Today we have a special interview with teh one and only @ButtChamber. ButtChamber first appeared in Newgrounds Rumble, having been mistaken for Piconjo by MindChamber (it's not like he looks anything like Piconjo to begin with), but has since gone on to have his own standalone career, in part due to the real Piconjo returning.
Interview No. 1
Interview by: @Anonymous-Frog (the same person who writes the paper)
Q: Where did you come from?
A: PFFFFFFFFFFFFFFFFFFT!
Q: How does it feel to be in Newgrounds Rumble? You must be one of them big boys?
A: PFFFFFFFFFFFFFFFFFFFFFFFFT!!
Q: Are you a virgin?
A: PFFFFFFFFFFFFFFFFFFT!
Q: Can you reply with anything other than fart noises?
A: PFFFFFFFFFFFFFFFFFFT!
Q: I'm being f**kin' serious with you! Stop it!
A: OK fine, they're turning brown anyways
Q: Thank you. How does it feel to be in Newgrounds Rumble?
A: It felt great playing the part of Piconjo for that game. Fun to be in teh show business for once. Apparently they couldn't find the real Piconjo, so they were looking for anyone who looked like him. I look bugger all like that son of a bitch, but that Mindchamber fellow was that desperate, so I took the role and went along with it. Though to be fair that sword was HEAVY!
Q: Why haven't you done anything else in the past 
A: As soon as I finished my role, Mindchamber saw no more use in me, so he ripped my p3n0r off and I died from teh bleeding. It was at that point where I was placed in teh prison for dead people. Thankfully my cellmate was someone who knew Piconjo and he was able to help me escape. It was at that point where I realized that teh Piconjo himself had also come back from teh dead.
Q: Why didn't you contact the Interviewer? Why me?
A: I tr3id 2 sc00r an interview with teh Interviewer, but his wrist was injured, so he turned me down. It apparently also happened with teh tank tribute editor. Journalism must r33ly hurt a l0t!
Q: Your art looks similar to mine. Explain yourself?
A: All I have is a rubbish laptop with MS Paint installed. j00 use MS Paint right? teh art would obviously look similar.
Q: Are you a virgin?
A: PFFFFFFFFFFFFFFFFFFFFFFFFFFFFFFFFFFFFFFFFFFFFFFFFFFFFFFFFFFFFFFFFT!!!!

@stevetherapper: Calls himself a rapper, yet his only audio submission is a voice demo.
@olskoo: The Newgrounds equivalent to YouTube's MrBeast.
FEATURED AUDIO
Same Shit From The Previous Paper With No Changes At All
Theme song? For news? You must be out of your mind!
Music:
@OrangeClock @M4Music @Juiceboi-PRO @land0lakes and @EruptionMusic
CALENDAR
June 26th: Where I'm from, it's called the NG Winter Festival. 11PM on Saturday June 26th will feature a panel on Pwnism, which was officially recognized by the Catholic Church on the 9th.
July: Nothing special right now
August 15th: The biggest Clock Day in history.
EVERYONE IS HERE!!

Maybe foot-drawn comic strips are not such a good idea.
Tankman Triweekly is owned by @Beggenrun