My new "Halloween" album Dipthong II : Phantom of the High School Puppet Theater has just released!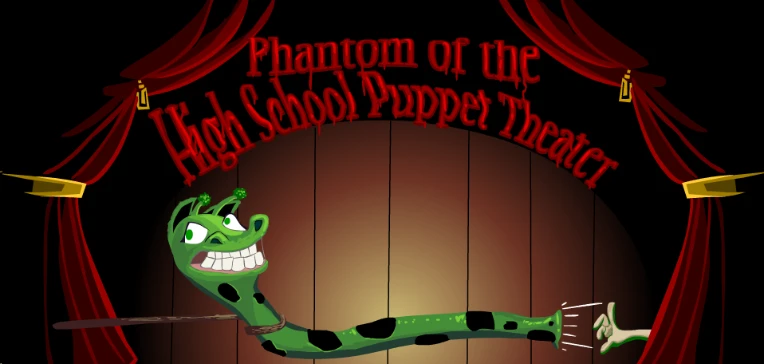 It's actually the second half of November, but if you want to be techinical, it ain't Halloween yet until @SrPelo finishes this year Spooky Month animation (hopefully not in January).
I just published the final three tracks (as mentioned in my last update):
Highlight: Trendbender, featuring @RedMongoose
In addition to Newgrounds, the album is also available to download on Bandcamp:
https://anonymousfrog.bandcamp.com/album/phantom-of-the-high-school-puppet-theater
You can watch it on the A+B YouTube channel (which I also just started)
https://www.youtube.com/watch?v=LvQr-Yvx3uw
And you can download a two-disc set totalling ~25 MB each (which you can share on Discord)
Art can be found here:
And now, the rest of my news: There's quite a lot.
Collabs
I'm doing a bit of work on a couple of collabs that might release in the next 1-2 months. Keep your eyes peeled, I won't reveal much!
Dipthong 3
Dipthong will continue, though it'll take a while: I'm drafting a third A+B album, albeit on and off while I continue my other projects.
2024 Plans (aka early New Years Resolution)
Of all the things I want to achieve in 2024, these are it:
1♦️ Animate a bunch of music videos for Phantom of the High School Puppet Theater, in addition to other artists:
With these, I plan to experiment with several art styles. Maybe I can finish them all this year, maybe it take me until the start of 2025, who knows?
These songs may end up with an official music video created by yours truly:
-Caught in the Act
-Trendbender,
-yeah (Intermission
-At least 1 song from the upcoming Dipthong 3
But one thing is certain, I will animate Trendbender. I will keep you updated if I ever start.
2♦️ Expand my portfolio, and I mean actually take this thing seriously this time: It's bad enough that my demo reel was last updated in February. This may involve taking some animation courses
3♦️ Start doing freelance or commissioned work, whether it be art, animation or music.
4♦️ Actually make some significant progress on a short film I originally conceived back in May. Right now I've only roughed out two scenes and the whole thing could be anywhere between 4-7 minutes.
The end for now:
That's all for now. To close off this post, I recently found a YouTuber that reacted to MADNESS: Operation X